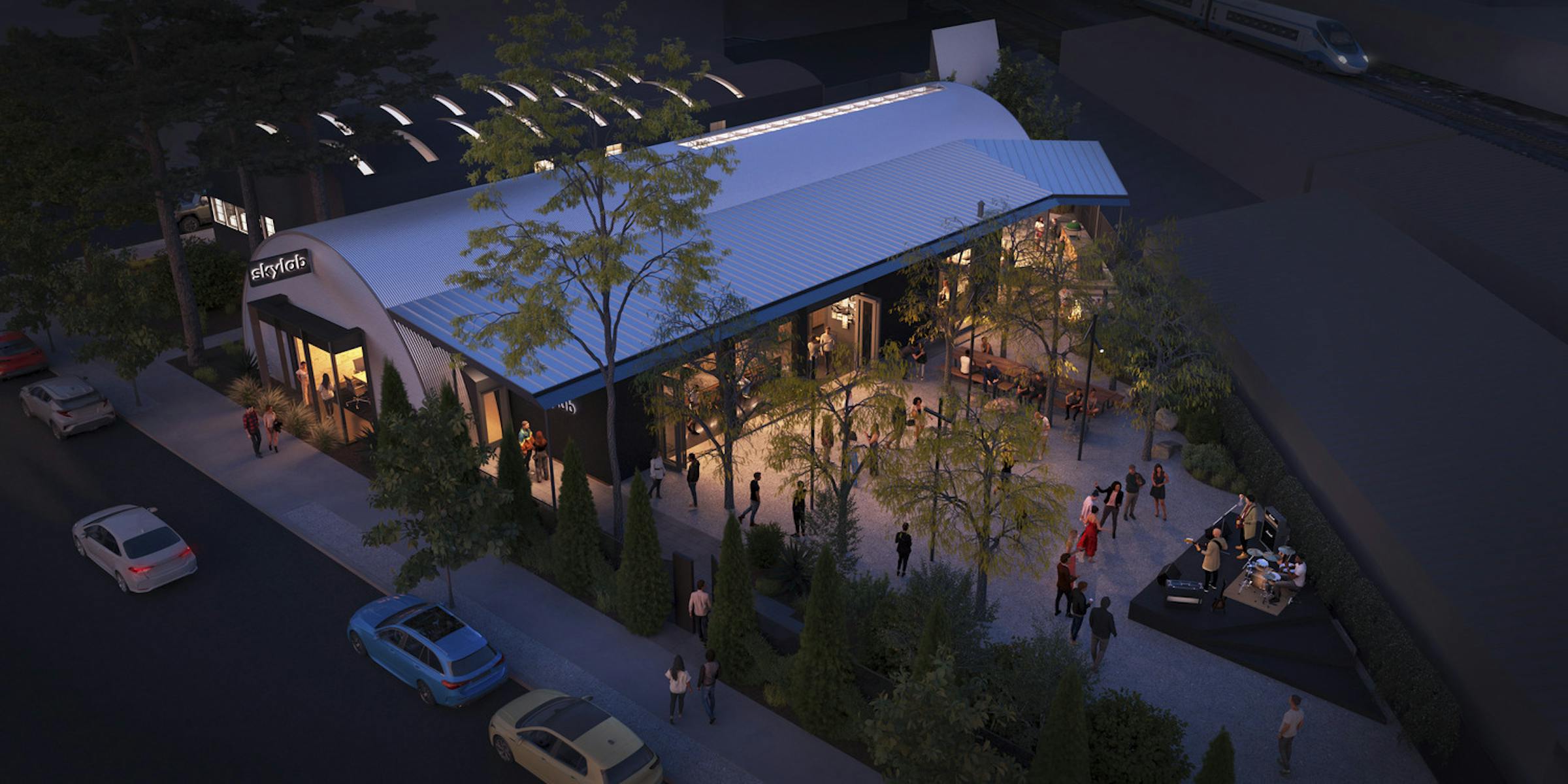 We are excited to be in our new Skylab headquarters located at 1825 NW Vaughn Street, Portland, OR 97209.
Skylab's downtown Portland office space no longer meets the needs of the evolving practice. The search for new space began with several questions, "Where can we find a space to integrate gardens with our studio, an event venue, and a fabrication shop?  How can our studio evolve from a dedicated workspace to a playground for the art and design community?" A three year search turned up a triangle-shaped corner lot in the city's NW industrial area consisting of two steel buildings and an adjacent storage/work yard. The resulting building transformation reflects the firm's design culture, which promotes experimentation, collaboration, and community.
Originally built in the mid-1940s for the Titan Metal Products Corp., the complex consists of two semi-cylindrical, prefabricated steel warehouse buildings, notable for their arching roof forms and connected via an enclosed walkway. While much of the existing structures will remain intact, Skylab has reworked the layout and is updating the buildings through a strategic set of insertions and modifications. Visual and physical connections to the surrounding landscape and urban environment are being enhanced through expansive new glazing on the north and south facades and four large 10-foot-by-10-foot operable window walls along the east. An existing 40-foot-long zipper-like skylight running along the central ridge of the easternmost building is being expanded to 60 feet to bring sunlight deep within the building to work areas. 
Inside, the venue will feature a full kitchen, dining room, listening lounge, 3D print space, and enhanced meeting and work spaces. The interiors will feature an industrial aesthetic: exposed concrete floors, aluminum windows, and an exposed steel roof. Natural elements are being introduced through the addition of conference rooms made with cross-laminated timber (CLT), wood cabinetry, and four 15-foot-tall trees in the large, open work area. Accessibility and energy systems are also part of the scope. Surrounding the warehouses will be a complex of garden spaces, including outdoor meeting and lounge areas, a 300-person performance and event area, a cultivation garden, an outdoor cooking zone, fire pits, as well as sport courts for pickleball, table tennis, and basketball. It is our goal to create a vibrant space for designers, artists, and the broader community to connect over events, performances, and critical discourse.
The new complex will provide over 10,000 square feet of interior space for design, experimentation and fabrication that Skylab will share with PDX Contemporary Art.